How about a fun evening celebrating Noe Valley Nursery School's 50th Anniversary! If you are unavailable to attend, please consider making a donation to the preschool. The cooperative preschool moved from Noe Valley to the Christopher Park Rec Center for about 15 years ago. Parents and staff from the school especially Brynna McNulty, Coordinator of Friend of Christopher Park, have worked endlessly and successfully with Rec and Park on the design for the new playground structures and other renovations.
Betsy for the DHCA
Invitation from NVNS for Cocktails for a Cause
Hello friends, family, and all those who have been a part of the Noe Valley Nursery School community past and present!
Please join us for our annual auction Cocktails for a Cause, where we will celebrate the 50th anniversary of NVNS with a night of drinks, dancing, live and silent auction bidding, and an awesome wine raffle on
Saturday, November 2nd, 2019, from 7-11pm
at The Verdi Club in San Francisco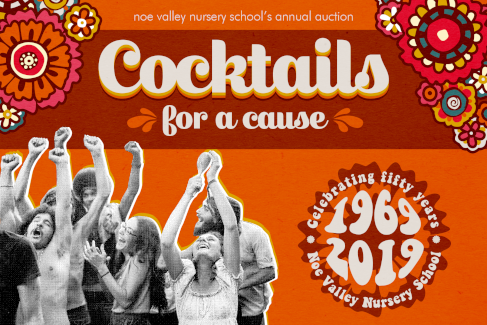 To acknowledge the school's inception in 1969, get ready to party in the spirit of the 60's and 70's (hint: dressing up highly encouraged!)
Simply click the invite above to purchase your tickets and register for the event. If you are unable to attend but would still like to give a contribution to the school, you can do so here.
Thank you for all your continued enthusiasm and support of NVNS.
Hope to see you there!